When it comes to feeling confident and empowered, few things can compare to slipping into a set of irresistible, sexy lingerie. Whether it's for a special occasion, a romantic evening, or simply to boost your self-esteem, choosing the right lingerie can make all the difference. However, with so many options available, shopping for sexy lingerie can sometimes be overwhelming.
If you have been wondering what you can do to pick the right intimate apparel, you have come to the right place! In this guide, we'll walk you through the essential rules to ensure a successful and enjoyable lingerie shopping experience that leaves you feeling flirty and fabulous.
Remember that not everything is going to be a perfect match for you
Understanding your body type and personal style is crucial when it comes to shopping for lingerie. Every individual is unique, and what looks stunning on one person may not have the same effect on another. Start by identifying your body shape – whether you have an hourglass figure, are pear-shaped, athletic, or have a voluptuous frame. Once you know your body type, you can choose lingerie that accentuates your best features and flatters your curves.
Consider your personal style as well. Do you prefer delicate lace, bold and daring designs, or classic elegance? Knowing your preferences will help you narrow down your choices and ensure that you select lingerie that aligns with your taste and makes you feel comfortable. You can use websites like Haute Flair to explore the different options available nowadays and figure out what works best for you and your personal needs.
Figure out why you want to invest in this stunning intimate apparel
Before embarking on your shopping spree, it's important to determine the purpose of your purchase. Are you buying a negligee for a special occasion like an anniversary or a romantic getaway? Or do you simply want to treat yourself to something that makes you feel beautiful and confident every day? Understanding the purpose will help you choose the right style, fabric, and level of coverage.
If you're looking for something to spice up a special night, consider bolder options such as teddies, babydolls, or corsets. If you're seeking lingerie for everyday wear, opt for comfortable yet alluring pieces like bralettes, chemises, or camisoles. By clarifying your intention, you'll be able to focus on the lingerie that meets your needs and fulfills your desires.
Understand that if it doesn't fit perfectly, it won't look perfect
One of the most important aspects of intimate apparel shopping is ensuring the perfect fit. Ill-fitting lingerie can ruin your confidence and detract from the overall allure. To find your ideal size, it's essential to get measured correctly. Visit a reputable store where professionals can accurately measure your bust, underbust, and hips. Remember, sizing can vary across different brands, so don't hesitate to try on various sizes to find the one that fits you best.
When it comes to selecting the right size, avoid the temptation to squeeze into smaller sizes in the hopes of creating a more alluring look. Ill-fitting lingerie can be uncomfortable and may not provide the support and confidence you're seeking. Embrace your body as it is and choose a negligee that celebrates your unique curves and contours.
Try to prioritize comfort as well as quality
While appearance is undoubtedly important, don't forget to prioritize quality and comfort when shopping for lingerie. Look for pieces made from high-quality fabrics that feel soft and luxurious against your skin. Materials like silk, satin, and lace are popular choices for their sensual appeal and comfort.
Inspect the stitching and overall craftsmanship of the intimate apparel to ensure durability. Flimsy construction can lead to tears or sagging, diminishing the lifespan of your lingerie. Remember, investing in well-made pieces will ensure that you can enjoy them for years to come.
Additionally, comfort should never be compromised for the sake of style. Opt for pieces that feel comfortable against your skin and allow for ease of movement. Uncomfortable models can quickly dampen your confidence, so prioritize pieces that make you feel both fabulous and at ease.
You can always invest in different pieces that will look great together and apart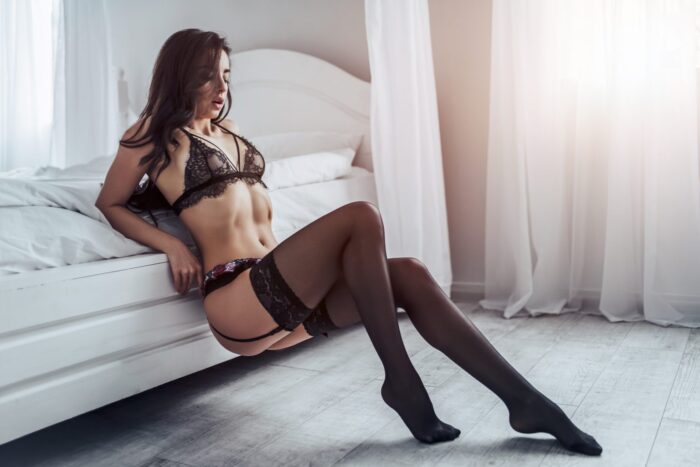 In addition to selecting individual lingerie pieces, it's worth considering the versatility and mix-and-match potential of your choices. Opting for lingerie sets that include multiple pieces, such as bras, panties, and garters, allows for creative combinations and versatility in your wardrobe.
This way, you can mix and match different elements to create various looks, ensuring that your lingerie collection offers endless possibilities. Whether you prefer matching sets or enjoy experimenting with different combinations, embracing versatility can maximize the value and excitement of your lingerie shopping experience.
The finishing touches are going to make or break the outfit
While the focus is often on the intimate apparel itself, don't forget to pay attention to the finishing touches that can elevate your overall look. Accessories can add an extra touch of glamour and allure to your lingerie ensemble. Consider complementing your outfit with stockings, thigh-highs, or garter belts for an added dose of seduction. Delicate robes, wraps, or sheer cover-ups can also enhance the overall aesthetic and create a sense of anticipation.
Furthermore, pay attention to the details such as matching jewelry, like dainty necklaces or bracelets, that can enhance the overall allure. A spritz of your favorite fragrance can provide the perfect finishing touch, leaving you feeling irresistible from head to toe. Remember, the little details can make a big impact and complete your lingerie look with finesse.
Be comfortable with yourself and the way you look
Finally, the most important rule when shopping for sexy apparel is to embrace your confidence. Lingerie has the power to make you feel empowered, alluring, and comfortable in your own skin. Choose pieces that make you feel like the best version of yourself and reflect your unique personality. Remember, confidence is the key to making any lingerie ensemble truly irresistible.
Shopping for sexy pieces doesn't have to be an intimidating task. By following these essential rules, you can embark on a shopping journey that leaves you feeling flirty, fabulous, and confident. So go ahead, indulge in the world of sexy negligees, and discover the transformative power it holds. Get ready to turn heads and embrace your sensuality with the perfect set of intimate apparel.