Hungary, due to its central location, is an important destination for those who want to spend their holidays in the heart of Europe or simply pass through the country to explore the wonders of neighboring countries or visit their loved ones during the summer.
Hungary, due to its central location, is an important destination for those who want to spend their holidays in the heart of Europe or simply pass through the country to explore the wonders of neighboring countries or visit their loved ones during the summer.
Before traveling, not only excitement but also stress builds up, as everyone wants to organize their perfect trip without any obstacles. The use of roads and toll systems in different countries is a crucial factor to consider because, without proper knowledge, one can easily face penalties.
Therefore, we have gathered the options for purchasing highway vignettes in Hungary. Hungarian highways are toll roads, so if you use them without a valid vignette, you can expect hefty fines. That's why we recommend obtaining your vignette before your journey to avoid unnecessary penalties.
There are three simple methods available for purchasing Hungarian highway vignettes. The first option is buying the vignette at designated locations near the border. The advantage is that with proper assistance, you can choose the correct vignette, and there are fewer chances of making mistakes when providing your vehicle information. However, the downside is that you have to wait in line, and paper-based vignettes are often more expensive. Also, you need to be careful not to damage the vignette.
Play it safe and purchase your vignette before you start your trip!
In this case, you can also buy the vignette at petrol stations. However, there is a higher chance of making mistakes when entering your license plate number, country code, and selecting the category, as there is more chaos and you have to wait in line for a longer time. The disadvantage of a physical vignette is that if you realize that you don't have a vignette while using a toll road, you can easily exceed the 60-minute grace period, which results in penalties.
However, the third option for purchasing the HungaryVignette is the e-vignette, also known as the online highway vignette, which is highly recommended. Its advantages include the ability to purchase it before your trip, ensuring that you don't forget it. There is no need to register; you just need to fill in the correct information and make the payment with your credit card.
You don't have to wait in line, avoiding unnecessary time consumption. The e-vignette received via email is less likely to get damaged or lost compared to the paper-based one. Furthermore, if you forget to purchase it in advance, you have a higher chance of avoiding penalties because you don't need to find a physical sales point within 60 minutes.
Benefits of Hungarian Highway Vignette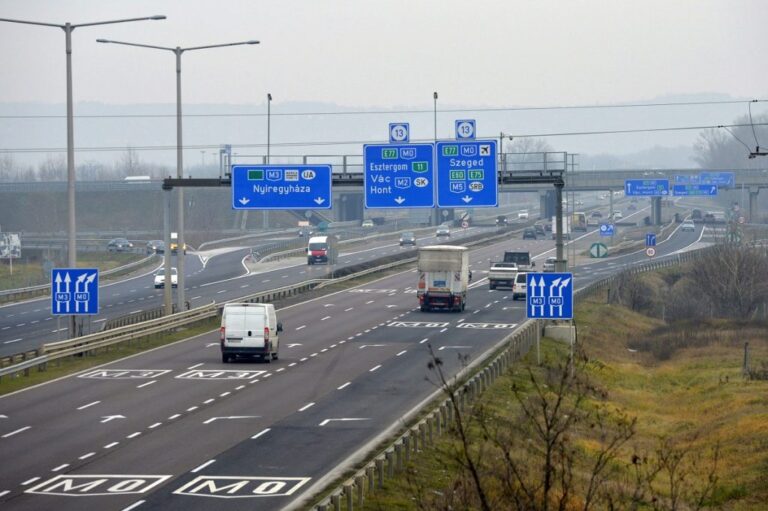 The Hungarian highway vignette offers several benefits to both local residents and international travelers. Here are some of the advantages of the Hungarian highway vignette:
Convenient and Efficient Travel: The highway vignette system ensures a smooth and efficient travel experience on Hungary's road network. With a valid vignette, travelers can enjoy uninterrupted access to the country's highways, allowing for faster and more convenient journeys.
Cost Savings: A highway vignette is a cost-effective option for frequent travelers or those planning an extended stay in Hungary. Instead of paying tolls at individual highway sections, the vignette offers unlimited access to the entire Hungarian highway network at a fixed price, providing significant cost savings in the long run.
Time Efficiency: By using the highway vignette, travelers can avoid delays at toll booths or having to purchase tickets for each section of the highway. This saves time during the journey, allowing for a more efficient and enjoyable travel experience.
Flexibility and Validity: The vignette is available in different durations, ranging from 10 days to 1 year, providing travelers with flexibility based on their specific needs and duration of stay. It allows for multiple entries and exits during the validity period, offering convenience for those making several trips within Hungary.
User-Friendly System: The process of obtaining and displaying the vignette is straightforward. It can be easily purchased at various sales points, including gas stations, post offices, and online platforms. Once acquired, the vignette can be easily affixed to the vehicle's windshield, ensuring hassle-free compliance with the regulations.
Supporting Infrastructure Maintenance: The revenue generated from the highway vignette system is vital for the maintenance and improvement of Hungary's road infrastructure. By purchasing and adhering to the vignette regulations, travelers contribute to the ongoing upkeep of the highways, benefiting both locals and visitors alike.
The Hungarian highway vignette offers convenient and cost-effective travel, time efficiency, and flexibility, and supports infrastructure maintenance. It simplifies the process of traveling on Hungary's highways, providing a seamless experience for both domestic and international travelers.
Exploring Hungary's Hidden Gems Along the Road
Embarking on a journey through Hungary's enchanting landscapes and vibrant cities is an adventure that awaits travelers from around the world. To ensure a seamless and rewarding experience, the Hungarian Highway Vignette serves as the key to unlocking the road to these captivating destinations. Offering unlimited access to the country's highways, this convenient pass allows you to navigate the roads with ease while discovering the hidden gems that lie just beyond the highway's edge.
1. Eger
Situated near Highway M3, Eger is a charming historical town known for its thermal baths, medieval castle, and Baroque architecture. Visitors can explore the picturesque streets, visit the famous Eger Cathedral, and enjoy the local wine culture, particularly the renowned red wine, Egri Bikavér (Bull's Blood).
2. Lake Balaton
Located near Highway M7, Lake Balaton is the largest freshwater lake in Central Europe and a popular tourist destination. The lake offers beautiful beaches, water sports activities, charming lakeside towns, and vineyards. Visitors can enjoy swimming, sailing, cycling along the lakeshore, or exploring historic towns like Tihany or Badacsony.
3. Pécs
Situated near Highway M60, Pécs is a vibrant city with a rich historical and cultural heritage. It is known for its well-preserved Roman ruins, medieval architecture, and the stunning Pécs Cathedral. Visitors can explore the atmospheric Old Town, visit museums, enjoy the lively café culture, and discover the city's vibrant arts scene.
4. Szeged
Located near Highway M5, Szeged is a lively city known for its beautiful architecture, vibrant cultural events, and delicious local cuisine. Highlights include the grand Votive Church, the enchanting Szeged Open-Air Festival, and the famous Szeged Fisherman's Soup, a must-try Hungarian dish.
5. Hortobágy National Park
Situated near Highway M35, Hortobágy National Park is a UNESCO World Heritage site and the largest protected area in Hungary. It offers unique landscapes, including vast plains, marshes, and traditional Hungarian farmsteads. Visitors can enjoy bird-watching, horseback riding, and explore the iconic Nine Arch Bridge, a symbol of the park.