The Johny Depp vs. Amber Heard defamation case has recently ended, and the seven jurors unanimously declared Depp the winner of this longstanding lawsuit. Jurors ruled that Heard defamed Depp in her 2018 Washington Post op-ed by claiming to be an alleged domestic violence survivor. Depp's $15 million awards from the trial await to be paid off, which begs the question – what is Amber Heard net worth in 2023?
Heard was also awarded $2 million for winning one claim related to Depp's former lawyer Adam Waldman. After the ruling, multiple reports suggested that the verdict may seriously impact Heard's net worth and finances as she currently owes Depp a lot of money. We researched this topic and would like to share the information with you. So without further delay, let us start.
Amber Head's Net Worth and Career Prior to the Trial
Heard dropped out of high school in Texas and moved to New York when she was 17 years of age. After she landed a few modeling gigs in New York, she moved to Los Angeles to pursue her acting career. Following a few appearances in music videos, Heard got several roles in TV shows such as Jack & Bobby, The Mountain, and The O.C.
Her feature film debut was in Friday Night Lights, after which she earned more roles in films like North County, Side FX, Price to Pay, You Are Here, and Alpha Dog. She also recorded several appearances on TV shows Criminal Minds and Californication.
Heard's commercial success began in films such as Pineapple Express, Never Back Down, and Zombieland before she appeared in even more prominent titles such as The Rum Diary, ExTerminators, and Drive Angry.
Amber Heard's biggest acting success happened when she managed to get a role in DCEU after being cast as Mera in Justice League. She also reprised this role in Aquaman with Jason Momoa.
As far as her net worth went prior to the defamation trial, she experienced her highest-earnings period in 2019 with an income of $3 million. During the trial, it was mentioned that Heard signed a 4-picture deal with Warner Brothers and earned $450.000 for her first movie with this company.
What Is Amber Heard's Net Worth After the Defamation Trial Verdict?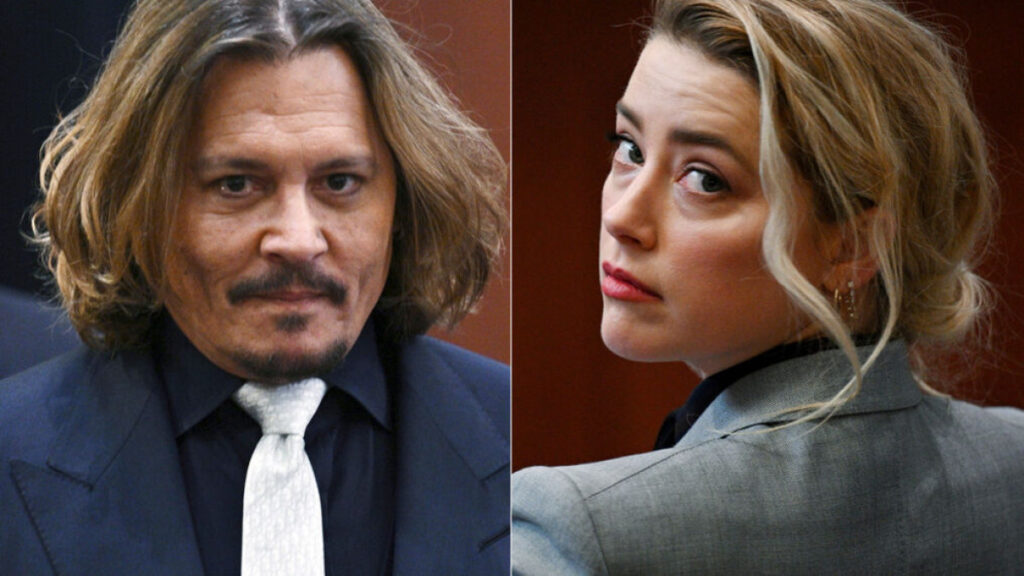 After the defamation trial came to a close, Celebrity Net Worth reported that Amber Heard's current net worth stands at -8 million. The simple math likely calculated this since, prior to the ruling, the publication noted that her net worth stood at $3 million.
Although her wealth is currently unclear, she has earned millions for her work in TV and films such as "Aquaman" and "Aquaman 2." Heard previously received a $7 million settlement from Depp after their 2016 divorce, which she pledged to donate to charities. During the trial, she stated that she did not yet fulfil this pledge because of the trial.
Various testimonies during the trial suggested that Amber Heard's career had stalled due to the trial with Depp. In addition, this raised questions about whether or not Heard would be able to cover the damages, which included $10 million in compensatory damages and $5 million in punitive damages, which was reduced to Virginia's cap of $350.000.
Heard's attorney Elaine Charlson Bredehoft was recently asked if her client would be able to pay the $10.35 million judgment, and she replied, "Oh, no. Absolutely not." Bredehoft did not mention any of Heard's financial options, but she did say that she plans to appeal the ruling.
What Are Heard's Financial Options After the Trial?
Although Heard can appeal the verdict, she might be required to post a bond for the full $10.35 million judgment, plus interest. She did not address the financial terms of the verdict statement she published on Twitter when she expressed her disappointment at the jury's decision. Here are some of the options she could go for following this highly publicized trial:
Judgment Appeal
As we already mentioned, Heard can appeal the verdict in hopes of getting a more favorable judgment and reducing the payment. In case she wishes to stay the execution of the $10.35 million judgment, she will likely have to post a bond. She can also opt not to post a bond, but this is something that will allow Depp to execute the judgment.
Wages Could Be Garnished
In case Heard decides not to appeal but does not have money to pay the judgment, she could end up with her current, and future wages garnished. If she proves she does not have any money and nothing in her bank accounts, then garnishing all wages is possible. This is not something that is uncommon, and due to Heard's earning potential, part of her wages could be garnished as a result.
However, Depp could go for more than her wages and collect by going after her real estate, jewelry, and other valuables she possesses. In addition, some assets, such as retirement accounts, would be kept protected no matter what.
Heard Could File for Bankruptcy
Heard also has an option to file for bankruptcy, but there is a chance that she would not be able to discharge the $10.35 million debt through insolvency. This is because of a part of bankruptcy law that carves out debts stemming from "willful and malicious injury by the debtor" to another party.
Since the jury form said "defamation with malice," and you cannot do anything with malice unless you have the intent, it is highly likely that would apply. However, Johnny Depp would need to raise an objection to her attempt to eradicate the debt through bankruptcy. On the other hand, it is possible that he could decide against objecting in such a situation.
Depp Might Decide to Waive the Judgment
There is a chance that Depp might decide not to execute the judgment, waiving the monetary damages. Considering the fact that he is currently "in the driving seat," he could negotiate with Heard for a lower judgment cost.
If Head decides to appeal, as she reportedly intends to, that could be a negotiating point for negotiating lower payment or completely dropping it. Since Depp has already won in the court of public opinion, he might be willing to drop the judgment if Heard drops the appeal.
Final Words
Since multiple sources claimed that Amber Heard's legal fees in the defamation trial against Johnny Depp were largely covered by her homeowner's insurance until the final verdict, it is not known whether or not insurance is eligible to cover full damages. However, these damages might be reduced on appeal.
All things considered, it is likely that Heard will struggle financially to afford the compensation for Depp if her insurance cannot cover it. Whether or not she will be able to pay or if both parties will decide to negotiate and settle the judgment cost still remains to be seen.