Card games have stood the test of time for centuries, with many continuing to practice the craft due to their immense passion and fun value. As interest in different card games grew, so did the era of digitalization, allowing many organizations and communities to form their own online spaces. This ultimately led to the creation of many iGaming platforms where card players could not only socialize and share their knowledge but could access their favorite games at a click of a button.
One of the reasons that poker is so popular compared to other casino games – and why it remains a player's favorite – is that it's not just a game of chance. Sure, Lady Luck does have a minor role to play. But poker is a game that you can get better at over time and improve your skills and strategy.
That's why you won't hear about professional slots players – but professional poker players have come to their own type of celebrity with fans of the game. Since the poker boom of the 90s, it's gone on to become one of the top forms of entertainment too, with people tuning in from all over the world to watch tournaments and the best face off against one another. If you want to learn details that provide an outline for all the key strategies, as well as rule sets, variations and insight check out 888Poker.
Beyond practicing, it's always good to read books and resources to improve your skill sets, whatever hobby or craft that it may be. Below are the best poker books to read if you want to improve your skills when it comes to this classic game.
1. Playing the Player by Ed Miller
Written by Ed Miller – an MIT graduate, professional poker player, and author – Playing the Player is a must-read, and teaches you how to make correct reads and play like the pros.
This book shares Ed's insights into gaining the upper hand and using players' aggression against them – as well as how to spot the weaknesses in other players that will let you win. These tactics will come in handy as you progress further into a game or play against veteran opponents.
2. Elements of Poker by Tommy Angelo
This book published in 2007, has gone on to become a classic of the genre. This read will go beyond the small details and strategies and takes your understanding of it to the next level, covering the 144 "elements" of poker in the process.
It takes more of a psychological approach to the game, which if you're a poker player, you know is just as important as a methodological strategy. One to ensure you have on the bookshelf and to read every now and again for new pearls of wisdom from the master!
3. Essential Poker Math by Alton Hardin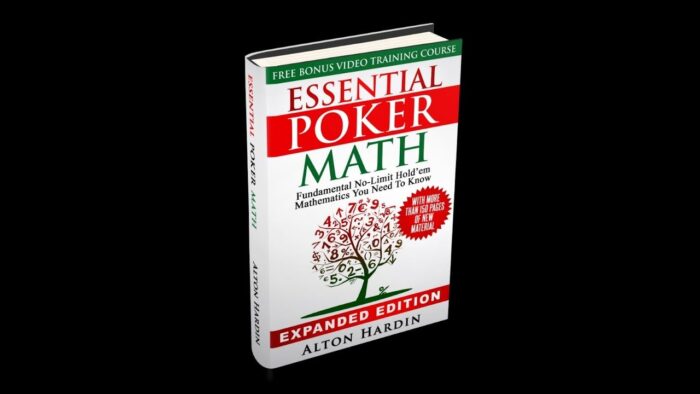 Poker is a game of math, and this book will help you use it to your advantage. A perfect book whether you're a beginner or a seasoned pro, using mathematics will help you to improve – and importantly outplay – your opponents. Even if you hated math in school, you'll gain something from this book – and will hopefully help to add to your bankroll in the process!
Calculating probabilities when it comes to poker is extremely important as it can help evaluate your chance of success depending on the type of cards being dealt in front of you as well as the other potential hands that could lean in your favor.
4. Doyle Brunson's Super System by Doyle Brunson
Two-time World Poker champion Doyle Brunson certainly knows what he's talking about when it comes to poker. That's why this book, published in 2002, is a must-read – especially for those looking for info on Hold'Em and Stud games concepts.
One of the first books from a poker genius, it's no wonder it's stood the test of time and remained a in the canon of great poker books to read.
5. The Theory of Poker by David Sklansky
Published all the way back in 1999, this book explores theories and concepts that you can apply to almost every variation of poker. These include Texas hold'em, lowball draw, seven-card stud, razz, and five-card draw.
This is an ideal book for beginners and introduces you to the fundamentals of poker – with chapters discussing bluffing, deception, psychology, game theory and so much more. Educating yourself on all these psychological wargames can help you outsmart your opponents and keep you ahead of everyone else.ž
6. Kill Everyone by Lee Nelson
First released in 2007, this book was a booming success – and includes never-before-seen strategies for tournaments, sit-n-gos as well as satellites. The expanded edition includes an analysis of fear-and-fold equilibrium and equity as well as strategies for the bubble, heads-up play, and the end game. It's become something of a must-read and remains a powerful learning tool for anyone who wants to improve their gameplay.
7. The Mental Game of Poker by Jared Tendler
This book is written by Jared Tendler – a mental game coach for golfers on the LPGA and PGA tours before he evolved into the top mental game expert in poker. The approach taken in this book has been adopted by hundreds of poker players around the world, and the book includes stories from poker pros who improved their game using Jared Tendler's method.
It's got some great testimonials from top poker players including Lex Veldhuis, Greg Merson, and others – and one to pick up if you're looking to improve your game from a psychological level and coach.
Overall, this list should provide you with a range of different reading materials when it comes to playing poker. A major upside of educational books is that they can often provide readers with many different perspectives that were previously not at the forefront of their minds. This can ultimately help improve upon areas of their card game that they considered much weaker and become a major player to be feared whether it's playing casually with friends for fun or on online platforms.